Building something helpful is hard. You must know your customers – their challenges and needs. You have to do a lot of analysis, take risks, and get people to believe that your product is worth trying. But how can you find out if people are interested in that product?
Audit, Compliance & Data Intelligence (ACDI) v4 is a big upgrade of our reporting and monitoring software Audit & Compliance Dashboard (ACD). ACDI v4 was created from real customer needs and has a lot to offer your Identity & Access Management (IAM) routine. This product update brings big (and not so big) changes to the table to help you with achieving compliance, simplifying your IAM routine and ensuring rock-solid security. Here's what's new:
Fresh-looking, user-friendly User Interface for more convenient product usage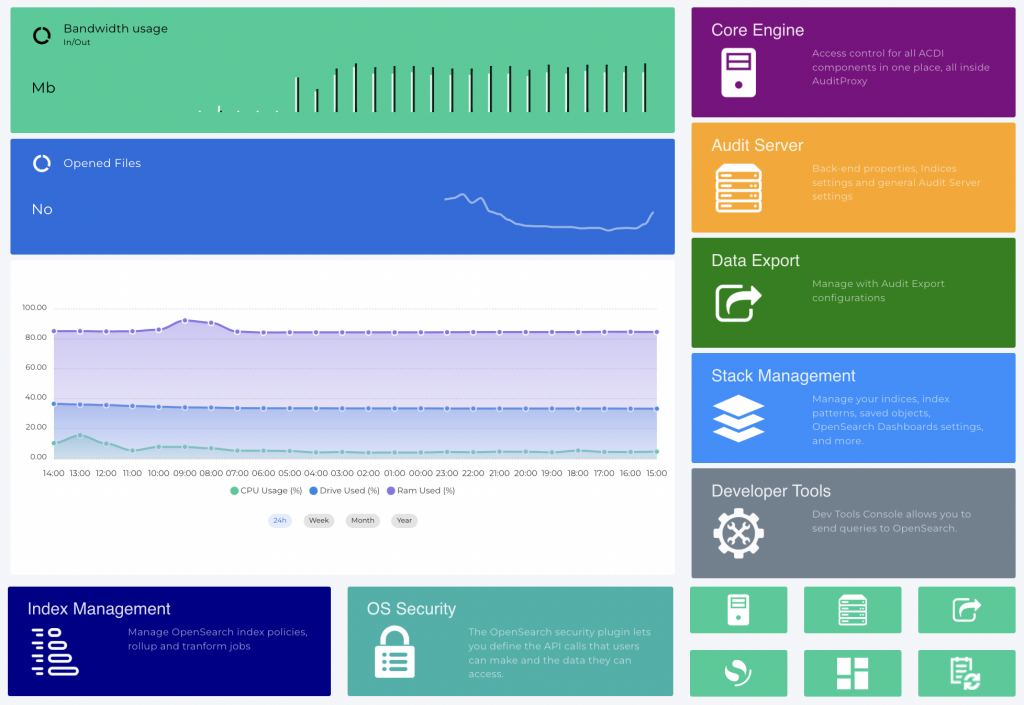 The powerful heart of ACDI v4
ACDI v4 is built on a completely new Core Engine to provide you with even more power and efficiency to solve your challenges and complete everyday tasks.
Welcome OpenSearch as new ACDI v4 search engine
Enjoy new ways of data selection and aggregation. Benefit from new OpenSearch-based modules – Anomaly Detection and Observability – to conduct forensic data analysis.
Big Data
From a challenge to an enjoyable task – work with big data with ease thanks to ACDI v4.
Connectors for Microsoft Active Directory (AD) and Azure AD
Use our connectors to directly monitor all events within the Microsoft AD and the Azure AD.
Easy migration between versions
Migration process has never been smoother. Easily transfer all your data from ACD v3 to the newest ACDI version (from ElasticSearch to OpenSearch).
Welcome the Active Directory (AD) Audit Dashboard
See what is happening within Active Directory connected via ACDI v4 and use this information to create a report and share it with requestors. By the way, all dashboards can now be exported as .pdf or .png images.
Improved Report Scheduler v4
Select a report, set up individual filters, and choose a time period to flexibly schedule export of requested data. Little changes = big improvements.
Day/time range picker can be used across all ACDI v4 components (dashboards, reports, history browser, etc).
What's new in Reporting?
ACDI v4 allows you to link data from different sources (indices) using entities.
New filters optimised by productivity and convenience have been added.
Flexible data selection for reports is now available.
Review all your selections and report results on one single page to conveniently work with the data.
Use the Report editor with a visualisation graph of filters, attributes and entities linked for even more convenient work with reports.
What's new in the History Browser?
In ACDI v4, the History Browser allows you to calculate data based on snapshots and events.
You can now filter and search for object attributes.
Use the Compare Tool to get a clearly depicted comparison of changes.
History Browser data can be now exported in CSV format (additionally to LDIF).
List of ACDI v4 predefined reports
AD Snapshot Group membership report
AD Snapshot Users report
AD Audit Group report
AD Audit Users Report
NetIQ Snapshot Group membership report
NetIQ Snapshot Users report
NetIQ Role Request report
NetIQ Resource report
NetIQ Workflow report
NetIQ Audit Objects
NetIQ Audit Groups report
NetIQ Audit Users report
NetIQ User Login Time report
NetIQ User Network Address report
NetIQ Driver State report
NetIQ Monitor Driver Events report.
We hope a little insight into ACDI v4 will help you push through your challenges to achieve compliance and rock-solid security.
Do you want to learn more about Audit, Compliance & Data Intelligence v4? Request a demo to get introduced to ACDI v4.